What do I do with my catch?  Our basic complimentary services include cleaning, filleting, and bagging of your catch plus one free bag of ice.  For $2.50 per lb (weighed whole at the dock) we can vacuum pack your fillets. We can usually process your catch on the spot and have you on your way within an hour. If you would like to come back another day, fillets may be picked up during our office hours (12:30 – 2 pm Mon-Sat) or shipped to your home via Fed

Ex

.  Additional shipping and handling fees will apply.
If you would like your catch frozen and shipped to your home we will over-night it to you via Fed

Ex

.
Do the boats have bathrooms? Each of our boats has private bathrooms on board.
What should I bring?
A warm jacket and layers of clothes, lunch, sunglasses, sunscreen, camera, raincoat, and rain boots.  Bring it all, we have plenty of storage.
What if there are more than 6 in our party? We operate 2 charter boats which enable us to split larger parties (greater than 6) for comfort & convenience.
Can I bring my dog? No!
Can we bring a cooler? Yes
Can we consume or bring alcohol on board?  With the exception of trips that launch at first light, alcohol possession/consumption is longer no longer allowed.

Will we see whales on fishing trips? Possibly, especially in the summer months.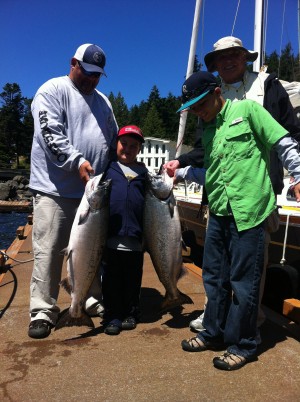 Can my kids or grandma go for free if they don't fish?  We charge by seat and are limited by our permit to 6 people.  A person occupying a seat but not desiring to fish would take the place of a paying fisher person, therefore we charge a full-person rate.
Do you have Gift Certificates?
Yes, we do, so please ask us about them.
Can we get off on one of the Islands to explore? Can we go whale watching or sightseeing?
See our "combinations trips" in the drop-down menu.
What other activities are available in the area? We offer whale watching, sightseeing, and crabbing adventures. Also, you can check out
the Pacific Northwest Marine Activities Association which lists many other recreational activities available in Anacortes.
Is there a fish guarantee? We are very good at what we do, but we cannot make the fish bite or stay on the hook.
Is there a whale guarantee? We are members of the Pacific Whale Watching Association which gives us real-time updates as to the whale's location if they have been spotted,  but we do not guarantee a sighting.
Can I smoke? Though pot is legal in WA State we operate in Federal waters and therefore marijuana is not legal to possess or smoke on the vessel.  Cigarettes are allowed but we expect customers to be respectful of others on the boat.
What kind of fish will we catch?
There are 5 species of salmon in the Pacific Northwest.  The current run will determine which type we're targeting. If bottom fishing, in May and June, we target halibut and lingcod.
What happens if it's raining?
The rain never stops us. It's Washington!
What happens if it's windy? We will cancel the trip with a full refund if the captain judges that it's not safe to go.
How do I get to you? Please see Getting Here.